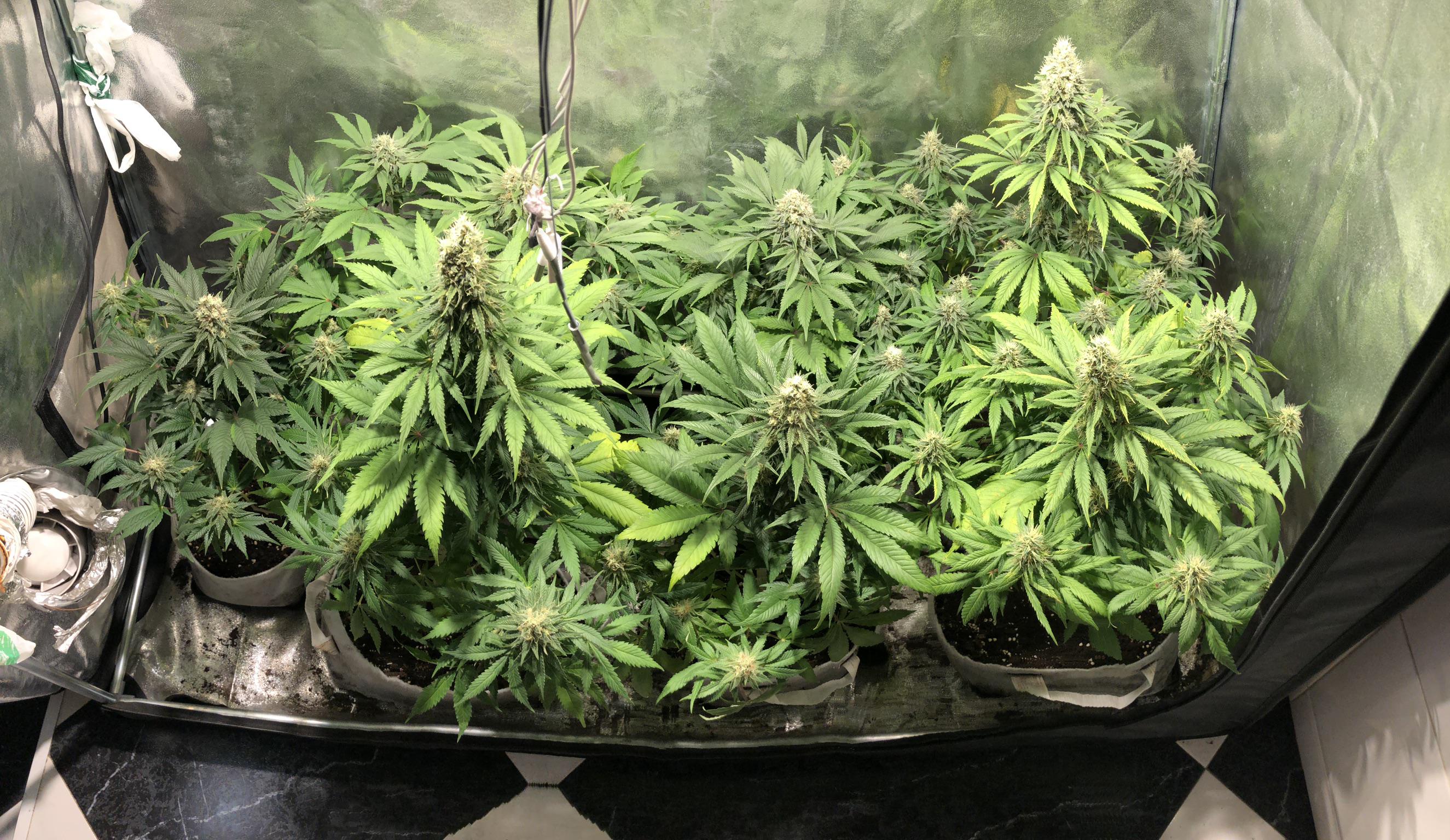 Content Count

625

Joined

Last visited

Days Won

40
About Txema5
Rank

Cogollo

Birthday

01/10/1972
Cannamed

reacted to a post in a topic:

Seguimiento Led Purple Punch x Do-Si-Dos de Philosopher Seeds

beliel

reacted to a post in a topic:

Extraccion de Burundanga

Yo tengo una de manivela manual que logré por la mitad de precio en una tienda en UK. Y no la cambio por nada. Los cogollos quedan manicurados perfectamente. Y con los restos de vegetal que se depositan sacas un montón de polen. Un abrazo y buenos humos!

fael

reacted to a post in a topic:

Mercado negro o ilegal.

Txema5

reacted to a post in a topic:

Tornar purpura marihuana

murri

reacted to a post in a topic:

Tornar purpura marihuana

Txema5

reacted to a question:

Cosas que se deverian saber de los LEd Cob

No acabo de entender ese interés de ponerla morada y mas en una auto. Deja que la variedad saque lo mejor de si misma sin torturarla. Por otra parte si la pones un PH mas allá del 7 es probable que sufras carencias pues no comerá como tiene que comer. Pregunto. ¿Que beneficios nos causa que esa planta se pusiera de color morado? Un abrazo y buenos humos!

El gran misterio en este caso es que la planta era feminizada. De ahí que no entendí porque la dio por florecer al mes. Viendo las especificaciones dicen que es para climas fríos. A tenor de que a tenido medias de 35 grados igual ha sido eso. Respecto a las semillas. No se si se ven a simple vista, yo no la veo. Solo bultos. Eso si. Descarto consumirla aunque la pondré a secar con las dos automáticas que la acompañan. Un abrazo y buenos humos!

Txema5

reacted to a post in a topic:

Día de Cosecha

Txema5

reacted to a post in a topic:

Tutankhamon y Og Kush feminizadas

Pues si es tal cual lo cuentas, ya se quién es el padre. Una automática Arcuma regular que tuve que quitar porque salió macho. Nota: Pregunta de novato. ¿La dejo secar y pillo las semillas? ¿Las pillo sin secar? ¿Qué puede salir de semejante cruce bastardo? Un abrazo y buenos humos!

Es una ERDPURT feminizada de Ace Seeds. Nunca he visto una planta tan rara. Al principio llegué a pensar que no era cannabis en su crecimiento. Unas hojas como de árbol platanero y al mes de crecer va la jodida y le da por florecer. Es verdad que la tenia por hay olvidada y tenía fecha de envasado de junio del 2016. Pero en serio, este novato jamás había visto cosa mas fea. Os pongo fotos de esta criatura del averno: Estoy por llamar a un sacerdote para que la haga un exorcismo. En cambio su compañera de balcón, una feminizada Black Bom de Philosopher Seeds con la misma edad, alimentación y todo. Mas feliz que un perro con dos colas. Foto: Y el miedo que tengo es que esa cosa/planta me afecte a las dos autos que tienen una semana para el corte. Fotos: Un abrazo y buenos humos!

Yo es que solo veo bolas y me estoy acojonando. Al lado tengo dos autos ya con su lavado de raíces y una feminizada que sigue su fase de crecimiento. @cepeda ya me has acojonado. Un abrazo y buenos humos!

Resulta que a primeros de abril planté dos feminizadas en el balcón. Una de ellas continua con su proceso vegetativo normal, pero otra y como si fuera automática empezó a florecer al mes de plantarla. Siempre tuve la sospecha de que podía ser un macho pero pese a todo la dejé. El caso es que esta planta ha creado unos pseudo cogollos bastante feos y muy extraños. ¿Es posible que esté ante cogollos macho? Un abrazo y buenos humos!

Este novato està perdido. Una de mis plantas de temporada en balcón, de repente se apuesto a florecer. ¿Es posible eso?. Ya incluso creo que es mi imaginación. Y además de haberse puesto a florecer la veo incluso como macho. Fotos de esta criatura del haberno: Un abrazo y buenos humos!

Tarde. Ya la corté. Un abrazo y buenos humos!

Pregunta de novato. ¿La apartó? Tengo cerquita dos autos feminizadas floreciendo y dos feminizadas normales al lado Un abrazo y buenos humos!

Creo que es macho. Opiniones: Un abrazo y buenos humos!

Están maravillosas. Enhorabuena y no te preocupes. Un abrazo y buenos humos!

Tras 12 días de secado he procedido ya a meterlo en botes y empezar la curación. Comentar que hasta el cogollo mas pequeño es pura densidad y dureza. El peso total obtenido con las 5 plantas ha sido de 228 gr. Esta vez me he quedado a 20gr del gr/W. Pero también han sido tres plantas menos que de costumbre. El próximo seguimiento lo haré con 6 pues para mi poco espacio y viendo los resultados es lo mas equilibrado. El bote grande es de 4l.Nunca había conseguido cogollos tan densos y duros tras un secado.Un abrazo y buenos humos!

Bueno, pues esto está llegando a su fin. Hace cuatro días procedí al corte. He puesto tres plantas menos de lo que solía poner y creo que en proporción ha merecido la pena. Dejando pesos a parte he de confesar que esta es la cosecha que mejor me ha olido hasta ahora, ha sido para este novato una sensación nueva. Muy, muy resinoso. Los cogollos muy densos y duros. Ahora a secar y a ver si logró un secado no demasiado rápido. Por el momento y hablando de cinco plantas muy contento ya no por la cantidad sino por la calidad. Eso si. Me llevo un montón de errores que he cometido y de los que este novato seguirá aprendiendo. El último post de este hilo será para mostraros el envasado y resultado final. Un abrazo y buenos humos!

Dos semanitas mas o menos largas les pueden quedar. Enhorabuena. Pinta de maravilla.